Crypto Hack is a Blooket game mode where the objective is to get as much crypto as you can, while stealing crypto from other players.
At the start of the game, you have a choice of five different passwords, such as "WHODAG00SE" and "Bluebird61". Then, you start answering questions. Answer a question, and if you are correct, get a choice of three random abilities that are hidden. If your answer is incorrect, nothing happens.
The main ability is the Hack ability. It is shown with the Mega Bot blook. When you hack, you get a page that has the name of a random player and three passwords on it, one of the three passwords is the password that the player chose at the start of the game. You have to guess which one is their password. If you guess correctly, you get to steal a portion of their crypto they obtained and they have to do a special challenge which takes away their time to do questions when another player is hacking them. Hacking will take away around 50% of the hacked player's crypto. However; if the player who is being hacked has only 1 crypto, the hacker's screen will stop in the hacking spot and not allow the player to continue.The money symbol for crypto is ₿.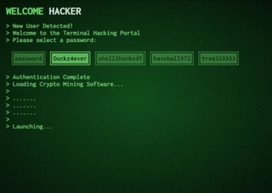 Crypto Hack gives 0.25 tokens per question.
Abilities and Blooks
There are eight abilities that are able to be obtained while playing this game, represented in Blooks:
Hacking Games/Tasks
There are also eight challenges players have to complete after being hacked. The challenges include making everything the same color, repeating a pattern, uploading and setting the temperature, which will be shown later on. They are given randomly and there is no order in which you can receive challenges after being hacked.
Upload Task
The first "task" is that you have to press "Start Upload" and then wait for it to finish uploading, and then you're done.
Repeat the Pattern Task
The second task will give you a 3x3 group of squares and then darken them in a pattern. You must memorize the pattern to finish the task. When it's done, it will ask you to repeat the pattern and you must finish this before you can continue playing.
Setting the Temperature Task
The third task is to change the temperature. It will give you a number with arrows on either side and tell you to set that number to a different number reducing or increasing it by one with either of the arrows. Left for down, right for up.
Reordering The Right Colors Task
The fourth task is kind of like matching, but you just have to switch some shapes to get them to line up with each other. Select one and select another to switch their place and try to make each color and shape line up with the other, until all are matched up.
Numerical Task
The fifth task gives you numbers 1 through 10 shuffled around, and tells you to tap them in numerical order from 1 and going to 10.
Matching All Buttons Task
The sixth task gives you the same shapes you've seen in the aforementioned fourth task and tells you to make them all the same shape/color. Tapping on a shape will make the shape and color change, your goal is to make them all the same shape and color.
Matching Cards Task
The seventh task is literally a matching game using the Bot Blooks. Clicking on a card makes it flip over and when they have been matched with the other Bot of the same appearance they will stay facing up. One needs to match all of them to continue the game.
12 Buttons Task
The eighth task tells you to click 12 numbers, and then gives you a rectangle full of squares in a 2x6 format and you will appear and you have to click them making them disappear. After one has been clicked another will appear in its place some time later and your goal is to click 12 of them. As you click the number 12 will go down proportionately with the number you have clicked, telling you how many you have left to click.
Strategy
Since this game mode is heavily reliant on luck, the "best" strategy would be to remember everything, such as remembering question answers well enough to a point where you don't need to think about it, passwords of other players, etc. Along with the previous point it's important that you aren't wasting time so when going through the post-answer menus it's a good idea to start spam clicking above where the question box is. When picking a password, it's recommended to pick one at random. If you pick based on personal interests it make it easier to guess your password. Remember that if you are hacking someone and you don't know their password, don't bother trying to make a smart guess. Likely they picked a random password like mentioned earlier and making an educated guess won't help too much.
Trivia
The question format is similar to Gold Quest.
Most hacking games are references to Among Us (uploading, Simon, temperature setting, etc.).
The Bitcoin symbol was first thought to stand for Blooket when a the game mode was leaked.
Passwords can be references to popular people among the Blooket community. One of these passwords is MATHMATHMATHMATH, likely intended for Math Boardom.
List of Passwords That Can Be Selected
Warning: Never use any of these passwords for actual use, such as for social or business accounts, or else it'll be very easy for any criminals/hackers to guess.
! walruses_are_cool !    
ROAR_DRAGON_ROAR                                                                                                                                                                                       
 boomGoesMeteor52                     
JudgementalOwl5                           
Ben@Blooket                                  
asdf1234                                           
CarCarCarCar75                               
FBISurvelillanceVan15                   
sPoNGeBOb4537                            
PizzaKing2555                                
password2                                     
toast_toast_toast3                       
footBALL23                                    
someone_gimme_fish                 
iAm10KING                                   
trulyFreshCH33SE                       
starsAreCoool!!                          
345catꞮnAMemeHat                   
aishaꞮsVeryLost                        
Blanketfort_47                            
mouseꞮnTeacup345                   
MINECRAFT
BlAhBlaHBlAh                              
Fairy~dust!
king333
wakanda63
2+2=22
MATHMATHMATHMATH
pinkCat_ok_cool
heyꞮtsEmma7
iLikeCarrots2
( ͡° ͜ʖ ͡°)
ch33se_m@n
quack3rz
Moooo_Moooo74
swiftyPhil54
FORTNꞮTE
iForget
changeMe
Tax@Toucan@INC
iWantSomeMoreYougrt
koolAid!!!ok
whoDaG000SE
CatLover90
ALIENS_ARE_REAL???
YouWontGuessThisOne
just_a_jester(lol)
outOfThisWorldDude
password
nobody_cares_dave
tree333333
Duckz4ever
shellShocked5
baseball972
1+1=11